The vast majority of homes are cooled and heated through a central, Heating, Ventilating, and Air-Conditioning unit (HVAC).
Your HVAC system may be one of the most costly and energy-hungry systems in a home.
So the more you know about your HVAC, the better.
All Time Air sincerely believes that a well-informed homeowner will save money and have a healthier, more comfortable home.
Central HVAC systems are regularly referred to as a "split" system due to the simple fact that some of the components are installed inside the home and some of the components are installed outside a home.
Inside your home, usually found in the basement, attic, or a closet, you'll find your furnace and the evaporator portion of the air-conditioner.
You'll also find the blower that is sometimes is called the air handler, which serves both the furnace and the air-conditioner.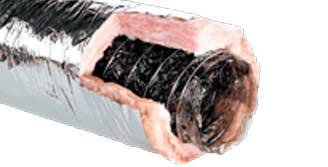 Attached to the blower is your ductwork, which are the tubes that to deliver your heated or cooled air to all the different rooms in your home.
Having your HVAC system serviced by a professional AC tech at least once a year is important to ensure you have a cost-efficient and long lasting Heating and Air Conditioning unit.
While there are cleaning tasks that most homeowners can accomplish, other tasks, like checking combustion in gas or oil furnaces or ensuring there are no leaks in a refrigerant line, are best left to experts.
Have you ever wondered if the air you're breathing in your home is clean?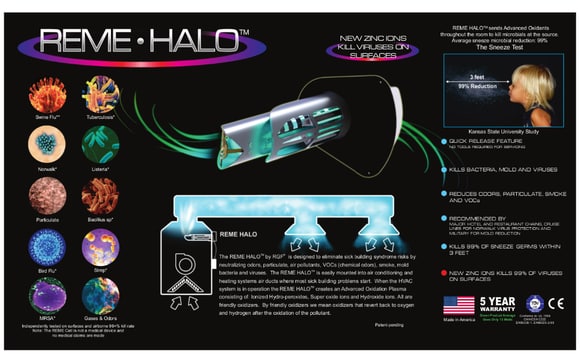 How will my HVAC system protect me from all the potential toxins that are polluting our air? Sure it all starts as the fresh air coming from outside, but is that air clean? With greenhouse gases on the rise and more pollution in our air than ever before.
With our Reme Halo UV air purification system, we take all the guesswork and mystery out of the equation.
The majority of generic filters can hold no candle to the purification power of our Reme Halo UV system.
Over 99 percent of mold, viruses, and bacteria are destroyed by the UV ray that passes by the filter. As long as you keep your AC unit running at a moderate speed, our UV purification system will work at maximum efficiency.
UV purification will improve the quality of the air that you breathe by decreasing mold and allergens, destroying odors and bacteria while maintaining a cleaner coil resulting in lower energy costs.
As micro-organisms pass through our Remy Halo they are effectively eliminated.
In order to maintain the health of the UV system, you must keep a healthy HVAC unit.
Perform regular maintenance to your HVAC system, replacing the filters regularly and cleaning when necessary.
If you feel ready to put UV purification to the test, give us a call and our professional HVAC technicians will provide you with all of the information required to ensure that you are paired with the perfect solution for you and your home.
Our goal is to not only provide you with exemplary cooling and heating solutions but to offer you the security and peace of mind that All Time, means all the time.
Interested in learning more about how regular maintenance and air purification can improve your quality of life?
Contact us today and speak with one of our expert technicians who can answer all of your questions.
---