Germicidal UV Lights For Your Air Conditioning System
In 1903 Niels Finsen won the Nobel Prize in medicine by demonstrating the ability of ultraviolet (UV) light to combat the spread of tuberculosis. This discovery has spread to every corner of the modern world. Today, UV lights help sanitize all sorts of environments and products—they clean hospital rooms, drinking water, HVAC equipment, and much more.
In air conditioning systems, UV light destroys harmful microorganisms, including mold, mildew, fungi, bacteria, and viruses. You can incorporate these lights into your home air conditioning system. UV lights are typically installed near your primary AC coil or in your ductwork. Microorganisms that pass within the UV bulb's line of sight will be destroyed.
Should You Install UV Germicidal Lights In Your AC System?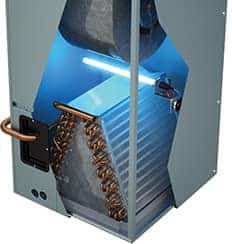 UV lights are quite easy to install, though the job is best entrusted to a professional service technician. (An HVAC expert will know how to place the lights for maximum effectiveness.) Air conditioning UV lights are usually mounted with magnets. Bulbs last for roughly 12 months, and you can easily replace them yourself. The electricity required to run UV lights typically only costs about $2 per month.
Two Types Of UV Light Systems For Air Conditioning
Germicidal UV light products are produced in two different forms: air purifiers and air conditioner cleaners. The fundamentals of their operation are the same, and they're both placed in your system's return air duct. An air conditioner cleaner is positioned as close to the coil as possible, and it is always on. The idea is to keep microbes from reaching the loop. A UV air purifier, in contrast, is linked to the system's blower unit. It switches on whenever there is air in motion to kill microbes as air passes the light.
How Effective Are UV Air Cleaners?
The method of action that makes UV light effective against microorganisms are thought to be direct damage to the microbes' DNA. Research on the effectiveness of germicidal UV lights in a home setting is relatively limited. Studies covering other environments, though, are highly encouraging. A study conducted on 50 hospital rooms at Duke University Medical Center in 2012, for example, showed that UV light eliminated 97 percent of drug-resistant bacteria. Another study compared the levels of fungal microbes in commercial HVAC air handlers over four months and found that levels were significantly reduced in units with UV lights installed. This latter study was published in the Journal of Applied and Environmental Microbiology.
What Advantages Do UV Lights Offer?
The wide range of microorganisms that can be killed by UV light translates into much healthier air for your family if you install them in your AC system. There is anecdotal evidence that UV air cleaning can also ease a wide range of respiratory problems, like allergies, asthma, COPD, and pulmonary disease. Keeping your AC system cleaner will also increase its efficiency and durability.
Do UV Lights Have Any Disadvantages?
UV lights are only useful if your ductwork is air-tight, and you install air filters with a high MERV rating. Filters need to be changed monthly, and your entire AC system has to be kept in top condition. UV lights are only effective against micro-organic contaminants; they do not remove dust (or other inorganic particles, such as pet dander) or kill dust mites.