If your central air system is broken, then you are in the right place. All Time Air Conditioning offers world class service to Boynton Beach area residents. If you require an emergency service, repair, or a new installation, we are available 24/7 around the clock to fulfill all of your heating, ventilation, and air conditioning (HVAC) needs. With our expert HVAC technicians that have years of experience, we know how uncomfortable those hot summer South Florida nights can be, which is why we train our technicians regularly for completing broken air conditioning repairs as efficiently and accurately as possible.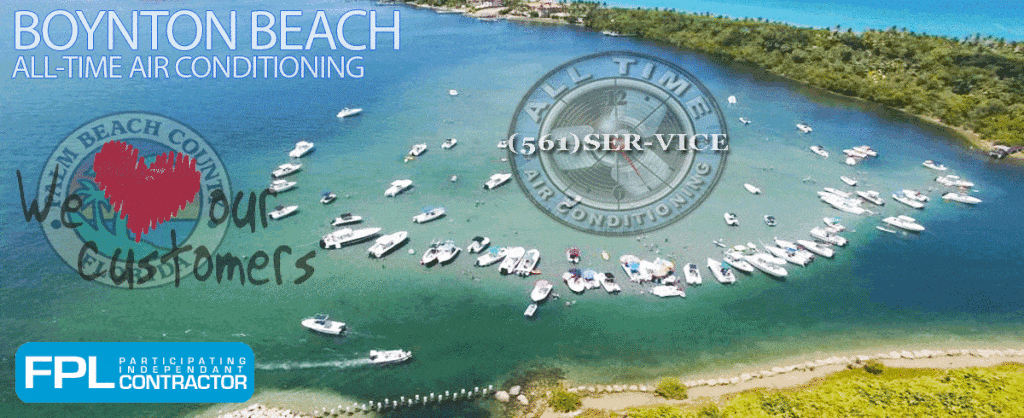 We are a family owned business and the quality of our workmanship is of a large corporation—that is where our dedication to HVAC has taken us, and we have the continuous five-star reviews of our loyal customers to back our claims of excellence in this industry. Our certified A/C technicians have the expertise and equipment necessary for completing high quality and fully professional air conditioning repairs, always on time and always on an affordable budget for you. With All Time Air, every experience with us is personalized and rewarding—guaranteed.
SIGNS THAT A CENTRAL AIR SYSTEM REQUIRES REPAIR
Water Leaks

Limited Air Flow

Constant Odd Noises

Uncomfortable Smells

Inaccurate Thermostat Readings

Warm or Very Weak Airflow
As unmatched experts in the field of HVAC repair, we recommend that as soon as you discover a problem with your air conditioning unit, schedule an appointment with All Time Air Conditioning so that we can address the situation efficiently. The longer you wait to schedule a service or try to perform the needed repairs yourself, it could easily cause further damage to your central air unit, resulting in even more expenses coming out of your pocket down the road. We truly want to save you money and provide premium quality with our products and workmanship at the same time.
GET STARTED ON YOUR BROKEN A/C UNIT TODAY
Our battle hardened technicians will work tirelessly to repair the problem as quickly as possible in order to stop any further damages from affecting your current broken HVAC system. At All Time Air Conditioning, we truly and unconditionally take pride in our craft and personally promise that all air conditioning repair services performed by our team are properly executed the first time around. If a repair should fail, which rarely does with our expertise and knowledge in the field of premier HVAC service, we provide follow-up repairs as needed to ensure that your broken central air system is as good as new. If you live in Boynton Beach or any of the surrounding cities, have no fear as All Time Air will make your HVAC problems disappear!
READY FOR MY REPAIR  (561) 777-9888